NVIDIA CEO Jen-Hsun Huang last week hand-delivered an  NVIDIA DGX-1 to OpenAI in San Francisco. "I thought it was incredibly appropriate that the world's first supercomputer dedicated to artificial intelligence would go to the laboratory that was dedicated to open artificial intelligence," Huang said. OpenAI's team is working at the cutting-edge of a field that promises incredible advances. Imagine artificial personal assistants that can coordinate our digital lives and autonomous cars and robots that are accessible to everyone. "So if this is the only one ever shipped, this project would cost $2 billion," Huang quipped.
"You can take a large amount of data that would help people talk to each other on the internet, and you can train, basically, a chatbot, but you can do it in a way that the computer learns how language works and how people interact," said OpenAI Research Scientist Andrej Karpathy.
Historic moment: OpenAI's researchers gather around the first AI supercomputer in a box, NVIDIA DGX-1.
Unleashing DGX-1, the First AI Supercomputer in a Box
The key to all this: speed. Researchers today are limited by the computational power in their systems.
"Our advances depend on GPUs being fast. Speed of our computers is, in some sense, the lifeblood of deep learning," Sutskever said.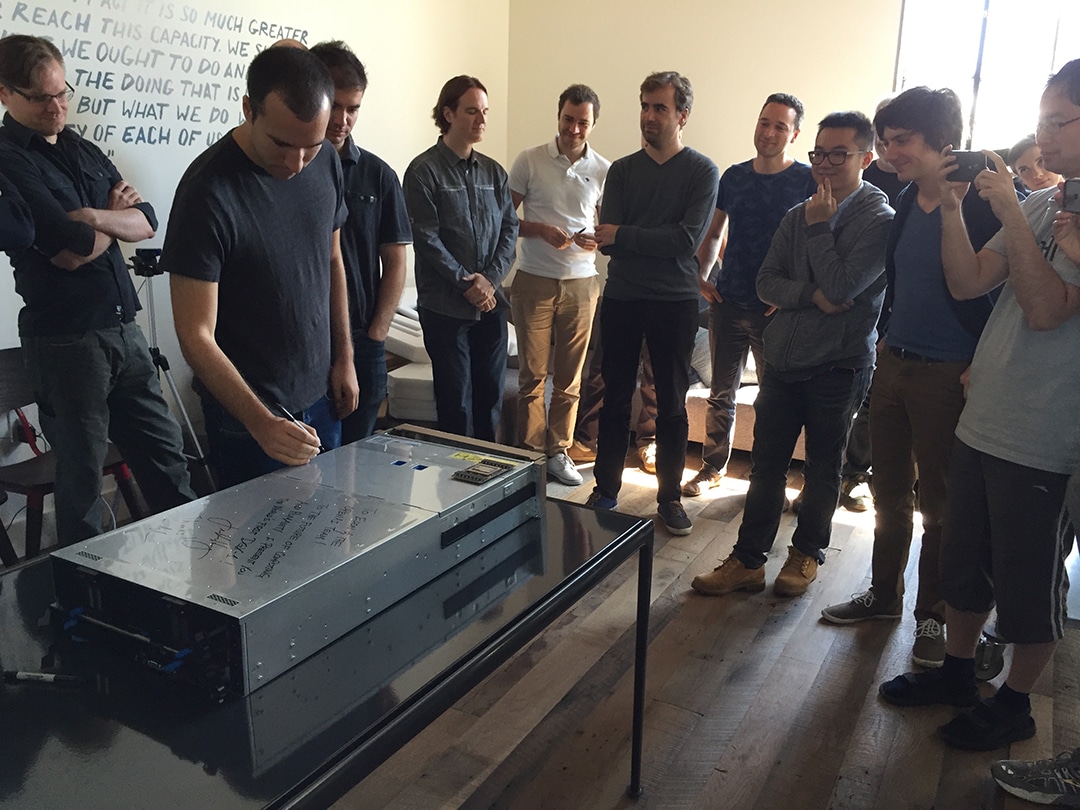 "One very easy way of always getting our models to work better is to just scale the amount of compute," Karpathy said. "So right now, if we're training on, say, a month of conversations on Reddit, we can, instead, train on entire years of conversations of people talking to each other on all of Reddit."
"And then we can get much more data in terms of how people interact with each other. And, eventually, we'll use that to talk to computers, just like we talk to each other."
For more information, see https://blogs.nvidia.com/blog/2016/08/15/first-ai-supercomputer-openai-elon-musk-deep-learning/.